The Euro-Mediterranean Human Rights Monitor said today, Sunday, that the Houthi militias continue to claim the lives of Yemenis with landmines that they plant on a large scale.
The observatory clarified in tweets on its Twitter page that mines in Yemen continue to claim more civilian lives, and pose a mortal danger to the lives of millions of them, given their widespread spread in conflict areas.
He called for strengthening local and international efforts to combat mines in Yemen and to neutralize their danger.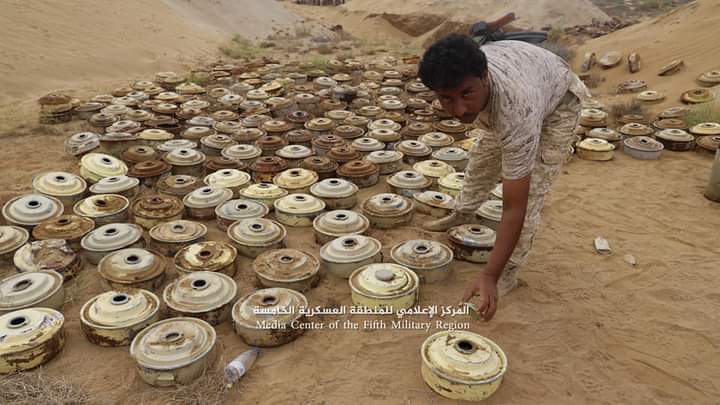 Houthi mines were recently dismantled
The observatory pointed to the last mine victims who fell yesterday, Saturday, in Al-Jawf Governorate.
Yesterday, Saturday, 10 civilians were killed and injured in two separate incidents, when landmines planted by the Houthi coup militia exploded in Al-Yatama area, Al-Jawf Governorate, northern Yemen.
The "Yemeni Landmine Monitor" confirmed that 5 civilians were killed and 5 others were wounded in the explosion of Houthi mines in Al-Jawf Governorate.
The observatory said that three civilians were killed and five others were wounded when an anti-vehicle mine exploded in a civilian vehicle by the Houthis on the main road linking Al-Yatama area in Al-Jawf governorate and Ma'rib governorate.
The observatory also indicated that two civilians were killed as a result of a Houthi mine explosion in a civilian vehicle on the desert road in the Al-Yatama area in the Khub Wal Sha`af district, northeast of Al-Jawf Governorate.
The Houthi militia alone among the parties to the conflict in Yemen is using mines in its war against Yemenis, and it has planted about two million mines in several areas of the country since 2015, according to the estimates of mine conflict experts.