After several talks and repeated news about discussions taking place behind the scenes in order to announce a new and expanded political agreement in Sudan, and amid continuing some criticism of the political agreement signed between Prime Minister Abdullah Hamdok and Army Commander Abdel Fattah Al-Burhan on November 21, a number of political forces handed over Yesterday evening, Monday evening, Hamdok's preliminary document was documented, according to what Al-Arabiya/Al-Hadath correspondent reported.
The political declaration document submitted by the Forces of Freedom and Change – the Central Council, and national figures, which Al-Arabiya/Al-Hadath reviewed, included 13 items.
As for the most prominent of these items, they centered on the amended constitutional document in 2020, which stipulated the political agreement to be the reference for the transitional period
It also called for support for the transitional independent government that Hamdok will choose.
In addition, the declaration stipulated the exclusion of the National Congress Party (the ruling party during the era of ousted President Omar al-Bashir) from participating in the government.
The Sovereignty Council and the Emergency Lift
He also called for restructuring the Sovereignty Council, reducing its members to 6, and keeping the peace partners' share in accordance with the Juba Agreement.
He called for stopping violations, lifting the state of emergency and expediting the formation of commissions.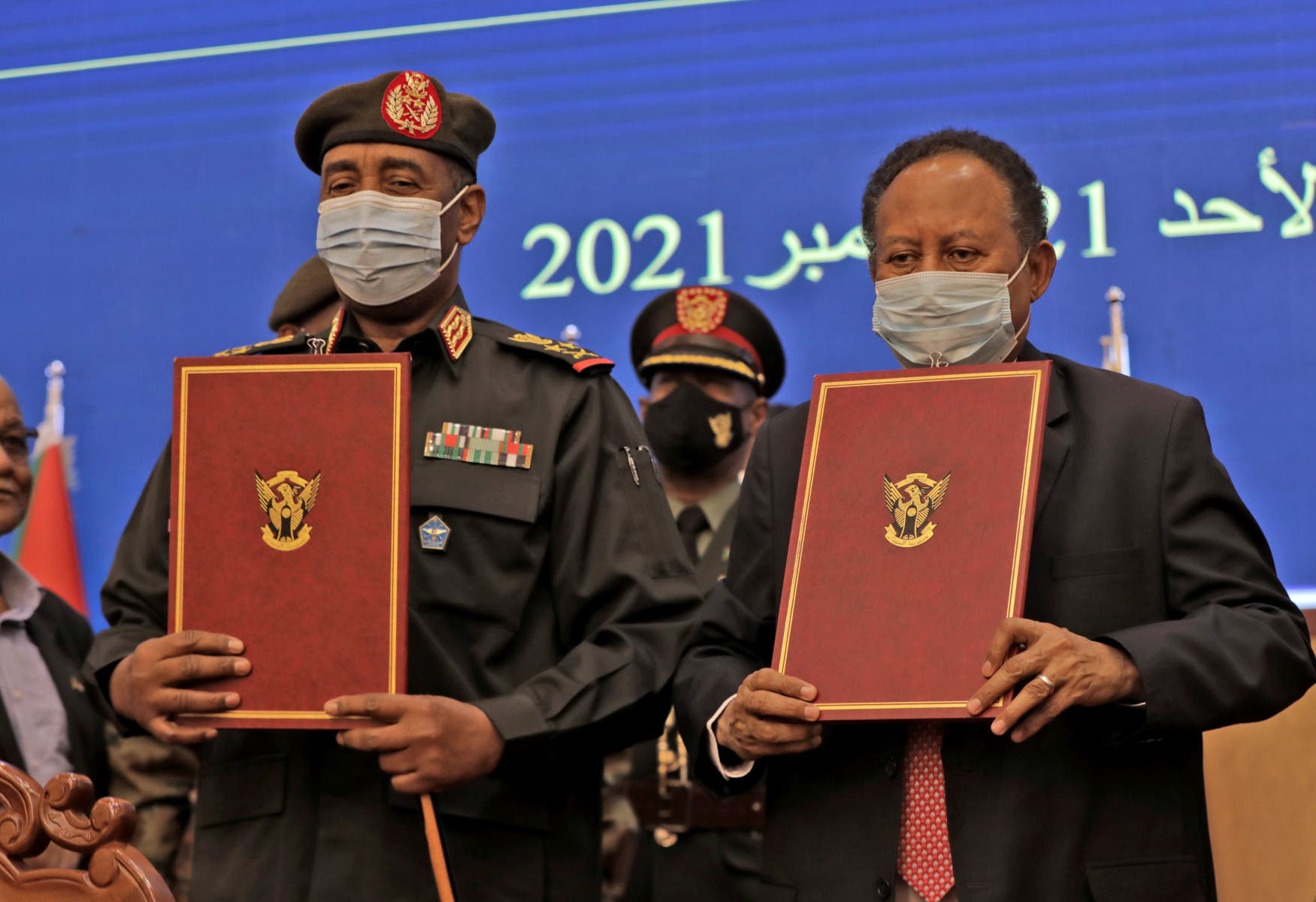 Abdullah Hamdouk and Abdel Fattah Al-Burhan after the signing of the political agreement in Khartoum (AFP)
In addition, he stressed adhering to the proportions established in the constitutional document on the formation of the Legislative Council, calling for the establishment of a four-way mechanism to start consultations.
It is noteworthy that the political declaration includes compatibility between Freedom and Change (the wing of the Central Council), the military component, the peace partners and the resistance committees without exceeding the provisions of the constitutional document.
Hamdok Al-Burhan Agreement
It is noteworthy that Hamdok and Al-Burhan signed on November 21 a political agreement that re-established the partnership between the civil and military components, after it had been shaken by the exceptional measures imposed by the military forces on last October 25, according to which the government and the former Sovereignty Council were dissolved, suspended the constitutional document, and imposed a state of affairs. Emergency.
However, this agreement opened the door for several criticisms against the prime minister, and made him lose part of his base or civil incubator, especially from the forces of freedom and change, which announced their rejection of him.
However, several recent efforts have taken place behind the scenes to expand it, and this was previously alluded to by the army chief himself, speaking of a new or modified political agreement that will soon see the light of day, including a number of political parties in the country.