Today, Friday, the center of the Iraqi capital, Baghdad, witnessed tension, after supporters of the armed factions and "losing" parties tried in the legislative elections that took place in October, after they tried to advance towards the heavily fortified Green Zone.
The security forces tried to prevent hundreds of protesters from storming the gate of the suspension bridge leading to the Green Zone.
Meanwhile, supporters of the pro-Iranian factions filed accusations against the High Elections Commission, and Prime Minister Mustafa Al-Kazemi, of fraud.
Intimidation and accusations
Simultaneously, the so-called "Organizing Committee for Demonstrations and Sit-ins Rejecting the Election Results" issued a statement in which it renewed its demand to prosecute the killers of the demonstrators, led by Al-Kazemi.
It also accused the three presidencies in the country of kidnapping the future and voices of Iraqis, describing it as poisonous!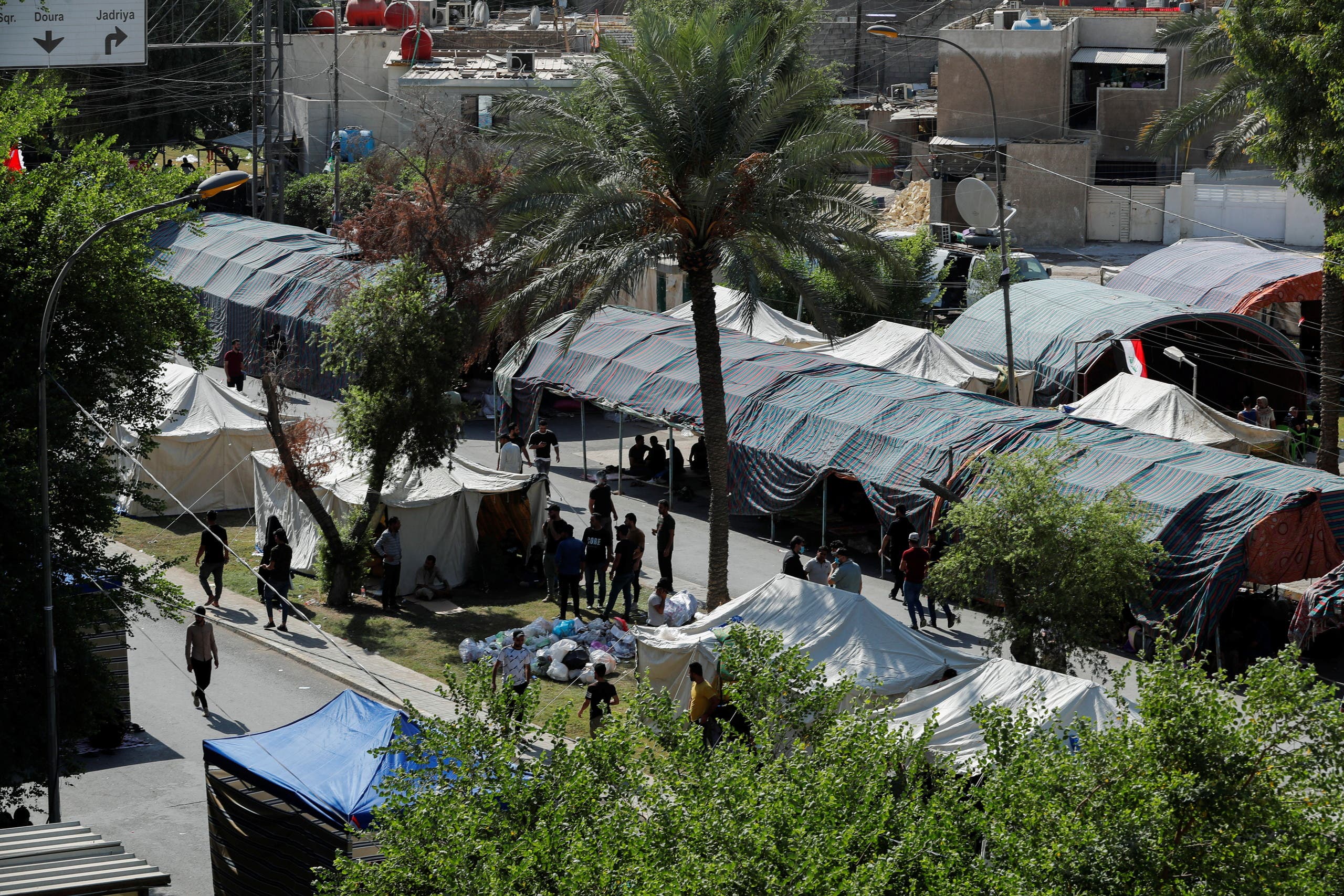 From the sit-in of the crowd supporters in Baghdad (Archive – Reuters)
Dozens of seats lost
It is noteworthy that a few days after the tenth of October, the pro-Iranian factions represented politically in the Al-Fateh Alliance, along with other parties that suffered a significant loss in the parliamentary elections, began to launch accusations against the commission and the Iraqi authorities, demanding the annulment of the results that showed a decline of dozens of seats relative to the previous elections, which took place in 2018.
And last November, several demonstrations and protests were held, and tents were set up in the vicinity of Al-Khadra, as an expression of its adherence to annulment of the results. What led, on the sixth of the same month, to clashes with the security forces, which resulted in the death of a protester.
Matters deteriorated later, following accusations leveled by Asa'ib Ahl al-Haq and Hezbollah Brigades against Al-Kazemi of being involved in the killing of the protester, before he targeted his house with 3 booby-trapped drones, at the dawn of the seventh of November.