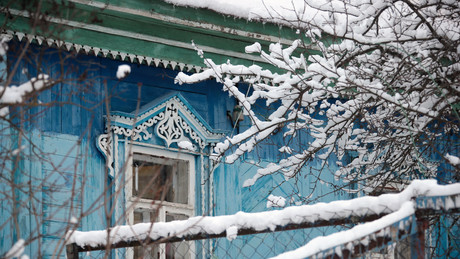 8 Dec. 2021 10:25 p.m.

The World Tourism Organization (UNWTO) has published a list of the best tourist villages in the world, including the Russian village of Bechowo. With its picturesque setting and connection to a well-known artist, it attracts numerous tourists.
At the beginning of December, the World Tourism Organization (UNWTO) published a list of the best tourist villages in the world as part of a new project. The Russian Bechowo is also among the 44 best villages.
Bechowo is located in the Tula region, about 140 kilometers south of Moscow, on the banks of the Oka River. The village impresses not only with its embedding in a picturesque landscape and the typical Russian wooden architecture, but also with a church that was built by the artist Vasily Polenow at the beginning of the 20th century.
Polenow is best known for his landscape painting with motifs of Russian villages. The Trinity Church in Bechowo was built according to sketches made by him. For the design of the wall paintings inside the church, he brought other famous artists of his time to the village, including Ilya Repin, known for his painting "Ivan the Terrible and his Son Ivan on November 16, 1581". The Polenowo museum is also not far from Bechowo.
The tourist village of Bechowo is comparatively small with its 80 houses. Since the landscape is characterized by numerous gorges, the surrounding courtyards are connected by bridges and stairs.
The UNWTO includes tourist villages on its list, which are characterized by their natural and cultural diversity and the harmony of their tourism development with the UN sustainability goals.
more on the subject – "Joy between the legs" – Russian mayor proposes new slogan for bike rental