Today, Thursday, a Belgian court in Antwerp resumed hearing the case of the three Iranians who were working with the Iranian diplomat, Assadollah Asadi, to examine the impact of the bomb that was scheduled to be planted at the annual conference of the Iranian model.
The court is scheduled to hear the three defendants, Amir Saadouni (41 years old), his wife Nassima Naami (36 years old), and Mihrdad Arfani (58 years old), in the case of planning to bomb the annual Iranian opposition gathering.
Gathering of opposition supporters
In conjunction with the trial, a number of supporters and supporters of the Iranian opposition gathered in front of the court, carrying banners with them calling on Belgium and the European Union countries to hold the Iranian regime to account, which they accused of launching "terrorist attacks on European soil."
The three defendants had said in a previous session that the bomb they intended to plant in a gathering of the Iranian opposition in Villepinte, near the French capital, Paris, was small and its destructive power was not great, but explosives experts are today making clarifications about the truth of that.
It is reported that the Court of Appeal in Antwerp considered, on Wednesday, November 17, 2021, an appeal submitted by three of the accused of collaborating with Iranian intelligence through the diplomat at the Tehran Embassy in Vienna, Assadollah Asadi.
prison sentences
In February 2020, after two and a half years of investigation and judicial follow-up, the Antwerp Court sentenced Asadullah Asadi to 20 years in prison. It also sentenced three of his accomplices to prison terms ranging from 15 to 18 years and to withdraw their Belgian nationalities, on charges of plotting to bomb the annual general conference of the "People's Mojahedin Organization" in Villepinte, Paris in July 2018.
Iran had withdrawn an appeal against Asadi's conviction, but the three convicts of cooperating with him decided to appeal the sentences issued against them.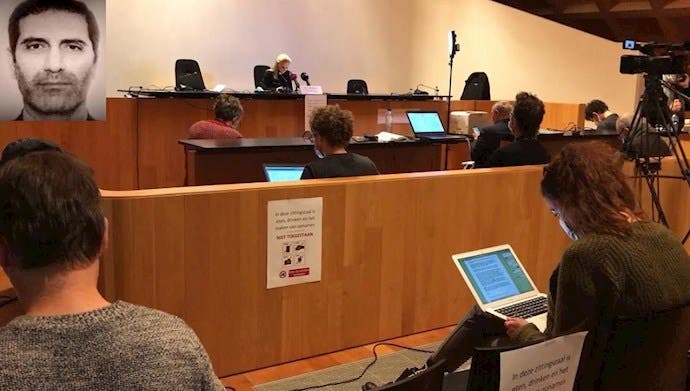 From the trial of a lion cell in Antwerp Court in Belgium
For its part, the "People's Mojahedin Organization" explained that "these agents endanger the lives and security of Iranian dissidents by exploiting the right of asylum or the enjoyment of citizenship in the host countries."
She added, "The judgment of the Antwerp court showed that the Ministry of Intelligence had placed some of its mercenaries, such as Mehrdad Arefani, in sleeper cells under the guise of a writer, poet and human rights activist."
It is noteworthy that Assadi, who was working at the Iranian embassy in Vienna, was arrested on July 1 in Germany, after he appeared in Tire on June 28 in Luxembourg handing a package containing the bomb to the Belgian-Iranian couple, and later delivered to Belgium in October In October 2018, he refused to leave his cell to appear in court on November 27, 2020.