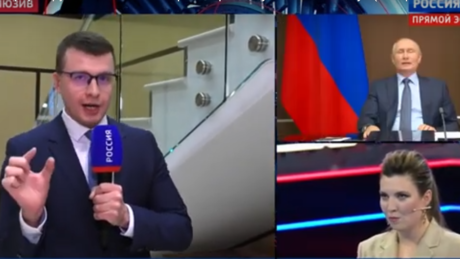 7 Dec. 2021 8:25 pm

The many conflicts between the US and Russia will not be resolved anytime soon. Moscow could have won the battle for visual interpretation at the video summit between US President Joe Biden and his Russian colleague Vladimir Putin on Tuesday.
While the White House initially did not publish any TV pictures from the start of the talks, Russian state television showed such recordings – which were also taken over by US channels. An unusual sight: the US channel CNN suddenly ran recordings with accompanying Cyrillic text. Above all, Putin clearly dominated the images, Biden looked small and insignificant on the monitor meters away.
In terms of speed, Moscow was temporarily ahead of Washington on Tuesday: The Kremlin announced the end of the two-hour talks at 6.15 p.m. Central European time, and the White House sent the message eleven minutes later.
Presidential Greetings: Putin-Biden video call BEGINSThe online summit started with Joe Biden chuckling and saying he was regretful the two leaders didn't meet at the most recent G20. Biden added he hoped they would meet face-to-face next time. pic.twitter.com/e1sGZetqMJ

— RT (@RT_com) December 7, 2021
CNN White House correspondent Kaitlan Collins quoted Russian journalists with Kremlin information in her tweet at 6:19 p.m. about the conclusion of the summit. When it came to the content of the conversation, however, Washington was quicker: Biden threatened Putin with consequences in the event of an escalation in the Ukraine conflict, the White House announced at 7:12 p.m. At the time, the Kremlin had not yet announced any substantive issues.
more on the subject – The first video conference between Putin and Biden begins
(dpa)