6 Dec. 2021 7:54 am

Reconnaissance aircraft operated by the United States Air Force (USAF) completed a record number of flights over the South China Sea in November this year, according to data analysis by a Beijing think tank.
According to the South China Sea Strategic Situation Probing Initiative (SCSPI), US spy planes flew 94 sorties over the South China Sea last month.
The SCSPI is loud Eigenaukuft an international research network that is not tied to any institution and is mainly financed through donations and charitable investments.
According to the information, the recorded data showed an increase of 25 percent from the record of 75 flights in February this year. According to the SCSPI, 80 percent of the flights were performed by P-8A submarine patrol aircraft, with the remainder being MQ-4C surveillance drones and 8C air-to-ground surveillance aircraft.
#Statistics: In November, the US military sent unprecedented 94 reconnaissance flights to the #SouthChinaSea, based on publicly available ADS-B data.The US also broke the daily record with 10 reconnaissance sorties on Nov 4, while the Carl Vinson CSG was operating in the #SCS. pic.twitter.com/IgIpe9jRT6

— SCS Probing Initiative (@SCS_PI) December 1, 2021
A U.S. Navy P-8A submarine patrol aircraft flew over the Taiwan Straits on November 29, according to SCSPI. "The spy plane was only about 15.91 nautical miles (29.46 kilometers) from the baseline of the Chinese territorial waters," according to the analysis. According to the think tank report, the aircraft's transponder may have been switched off.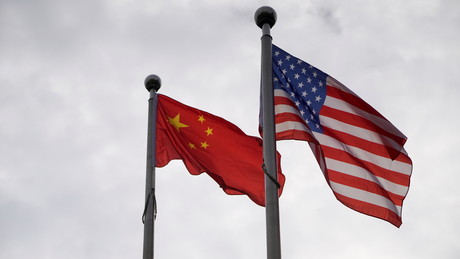 Last year Beijing accused the US of concealing the identity of the spy planes as commercial passenger planes over similar events. It is common for the USAF spy planes to imitate the transponder code of civil planes from other countries. This is dangerous.
The SCSPI stated in 2020: "This undoubtedly represents a great risk and great uncertainty for international flight safety, which could lead to misjudgments (e.g. through ground-based air defense systems) and accordingly represent a danger for civil aircraft, especially for those from the countries that are being faked. "
The media company Bloomberg asked a spokesman for the US 7th Fleet on this subject. His statement reads: "US Navy ships and aircraft routinely operate in the international waters of the South China Sea and are committed to supporting their network of alliances and partners and maintaining a free and open Indo-Pacific."
On Friday this week, Chinese Foreign Ministry spokesman Zhao Lijian urged the US loudly ZeroHedge to end the "grave breach of China's territorial security". He feared: "This aims to create tension and will increase the risk of regional conflict."
"The last thing the US and China need is a major foreign policy crisis. President Biden and President Xi Jinping do not want a conflict before the 2022 Winter Olympics in Beijing and before the 20th Congress in China next year and the US midterm elections . "
More on the subject – Beijing: Attempts to drive a wedge between China and Russia are pointless