The Yemeni National Army fought the fiercest battles against the Houthi militia in the south of the country Marib Governorate.
In the details, the battles erupted from midnight Saturday to Sunday noon between the Yemeni army, backed by the coalition's aviation, and the Houthi militia, which resulted in heavy human and material losses among the ranks of the putschists, according to what the media center of the Yemeni army quoted a military source as saying.
Among the losses incurred by the militias, with army artillery fire and coalition airstrikes, are 5 combat vehicles and 11 kits, including 4 crews carrying bullets and 7 crews carrying reinforcements, all of which were destroyed, in addition to the death of all those on board.
quality scenes
The source also confirmed that dozens of Houthi bodies are still scattered throughout the areas where the battles took place, after the militia leaders fled.
And the media center of the Yemeni army published qualitative scenes documenting the battles waged by the army with the support of the coalition, against Houthi militia, On the battlefronts in Ma'rib.
painful blows
In the context, the commander of the 143rd Infantry Brigade, Thiab al-Qibli, said that the Houthi militia received painful blows and heavy human and material losses in Sunday's battles, noting that coalition aircraft and army artillery destroyed 10 militia vehicles and vehicles on the Rawdat Jahm front, south of the governorate.
Al-Qibli pointed out that dozens of Houthis were killed, after trying to advance towards the positions of the National Army on the Rawdat Jahm front.
He also praised the role of the coalition fighters, which targeted and destroyed several militia gatherings, reinforcements and mechanisms along the line of military confrontations on the southern fronts of Marib.
Imminent danger
It is noteworthy that since last February (2021), the militias have continued their attacks on the oil-rich province, despite all international calls and warnings of the danger to the millions of displaced people languishing in tents in the area.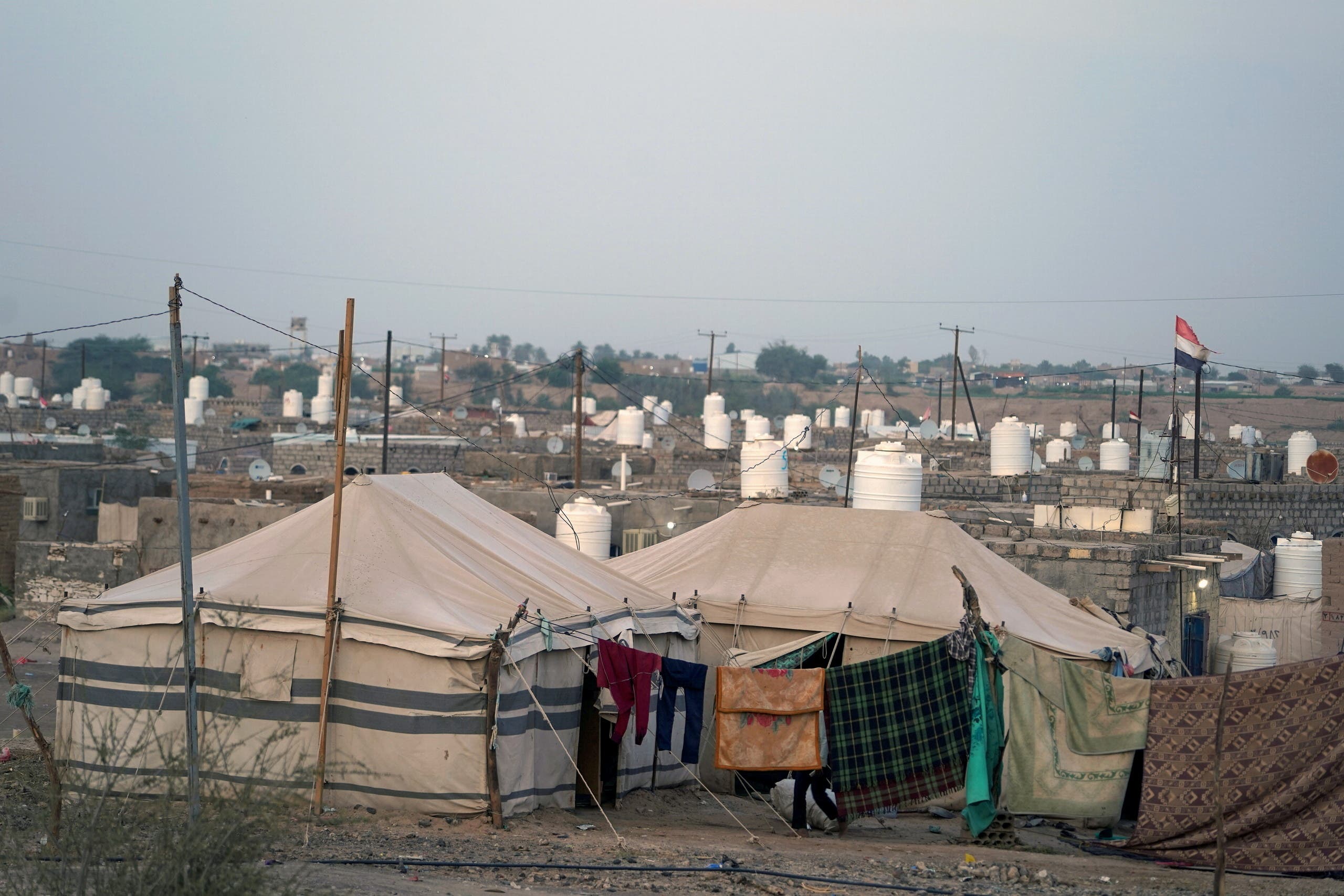 A camp for the displaced in Marib (Reuters Archive)
Marib hosts millions of displaced people who fled the conflict areas in the country, in order to protect their families and youngsters, and settled in camps established in the governorate.